The Stonehenge Landscape is an estate managed by the National Trust in Wiltshire, England, covering 2100 acres within UNESCO's Stonehenge, Avebury, and Associated Sites designation.
The Stonehenge Landscape contains over 400 ancient sites, that includes burial mounds known as barrows, Woodhenge, the Durrington Walls, the Stonehenge Cursus, the Avenue, and surrounds the monument of Stonehenge which is managed by English Heritage.
DNA studies of the ancestors who built many of the monuments, suggests they originated in Anatolia on the Aegean coast of modern Turkey, and migrated west across the Mediterranean before reaching Britain around 4,000 BC (details of the studies were published in 2019 in the journal Nature Ecology & Evolution). During this period, Britain was already inhabited by small groups of hunter gatherers, that were almost completely supplanted by the migrations.
Open Full Map – Click Here
---
Stonehenge
Stonehenge is a megalithic monument consisting of Wiltshire Sarsen sandstone, and Pembroke Bluestone arranged in a ring of standing stones. Archaeologists have found four, or possibly five, large Mesolithic postholes in situ which date to around 8000 BC, but the main period of construction was over several phases.
The first major phase was around 3100 BC, that featured a circular bank and ditch enclosure, measuring about 360 feet in diameter, with a large entrance to the north east and a smaller one to the south. A series of postholes suggests that some form of timber structure was built within the enclosure around 3000 BC, in addition to standing timbers placed at the northeast entrance, and a parallel alignment of posts running inwards from the southern entrance.
Excavations indicate that around 2600 BC, the builders abandoned timber in favour of stone and erected bluestones from the Preseli Hills, and Oligocene–Miocene sarsen stones from the West Woods, Wiltshire. The last phase of activity was between 1800 and 1500 BC, where two rings of concentric pits, the so-called Y and Z holes, was dug around the stone setting.

---
The Stonehenge Cursus
The Stonehenge Cursus is a large Neolithic cursus ("cursus" comes from the Latin for 'racecourse') that was constructed sometime between 3630 and 3370 BC. The monument runs for up to 1.8 miles in length and is roughly aligned east–west, oriented toward the sunrise on the spring and autumn equinoxes that suggests some form of ceremonial function.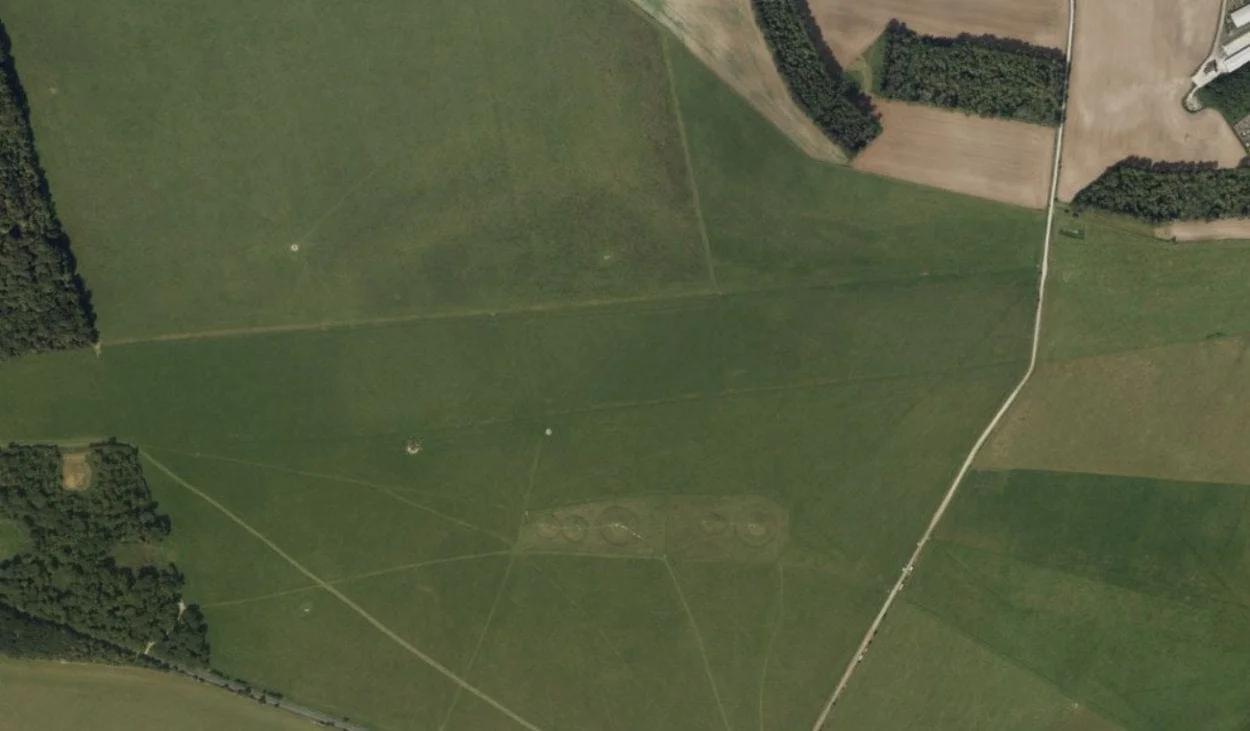 ---
The Lesser Cursus
The Lesser Cursus is a 0.2-mile-long cursus that was constructed around 3000 BC. Although its banks and ditches survived into the 20th century, ploughing since World War II has levelled the monument leaving only cropmarks.

---
Stonehenge Avenue
The Stonehenge Avenue is a corridor of parallel banks and ditches that was constructed around 2300 BC. The Avenue extends for over 1.7 miles linking Stonehenge to the River Avon, with some of its length aligned with the sunrise of the summer solstice.

---
Bluestonehenge
Bluestonehenge is a henge and stone circle monument erected sometime between 3400-2500 BC. It is estimated that there may have been as many as 27 stones in a circle, surrounded by a henge with an 82-foot-wide ditch and outer bank.

---
Cursus Barrows
The Cursus Barrows is a burial cemetery located south of the western end of the Stonehenge Cursus, consisting of 18 round barrows of varying sizes and dimensions that contained cremation burials.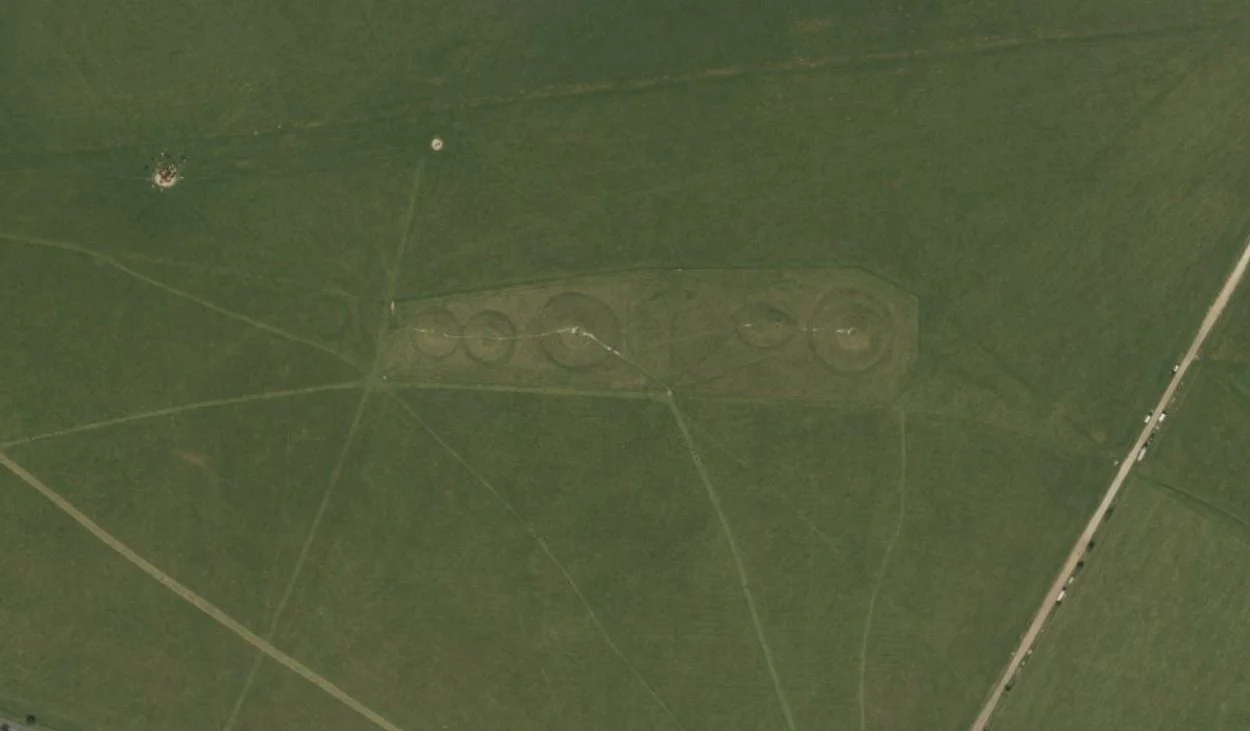 ---
Durrington Walls
The Durrington Walls is a large, palisaded henge enclosure that was active from 2000-1600 BC. The henge was oriented southeast towards the sunrise on the midwinter solstice and contained four large concentric circles of postholes. Around the same time the henge was constructed, a late Neolithic/Early Bronze Age settlement emerged around the site.

---
Woodhenge
Woodhenge is a Neolithic Class II henge and timber circle that dates from around 2500 BC. The site consists of six concentric oval rings of postholes surrounded by a single flat-bottomed ditch and outer bank.

---
Coneybury Henge
Coneybury Henge is a henge monument that consists of a broad oval ditch that may have contained a circle of timber posts.

---
Kings Barrows
The King Barrows covers a range of bowl barrows and bell barrows, both north and south of the "Avenue" – The northern being the Old King Barrows, the southern the New King Barrows.

---
Winterbourne Stoke Barrows
The Winterbourne Stoke Barrows is a burial cemetery, consisting of 11 barrows within an oval earthwork enclosure.

---
Normanton Down Barrows
Normanton Down Barrows is a Neolithic and Bronze Age barrow cemetery that dates from between 2600 and 1600 BC and consist of a Neolithic long barrow and some 40 or more Bronze Age round barrows.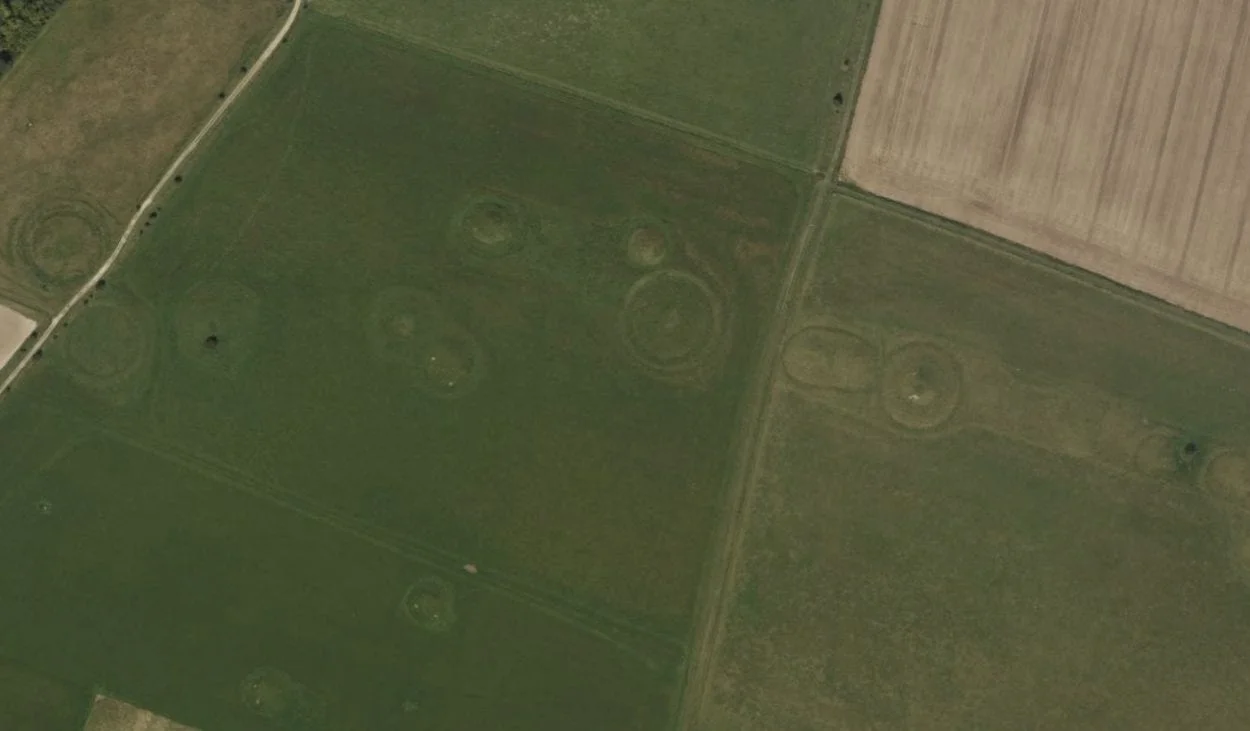 ---
Vespasian's Camp
Vespasian's Camp is an Iron Age hillfort that dates from around 500 BC, with evidence of occupation as far back as the Mesolithic period. The hillfort enclosed an area of 39.5 acres, surrounded by extensive embankments and ramparts.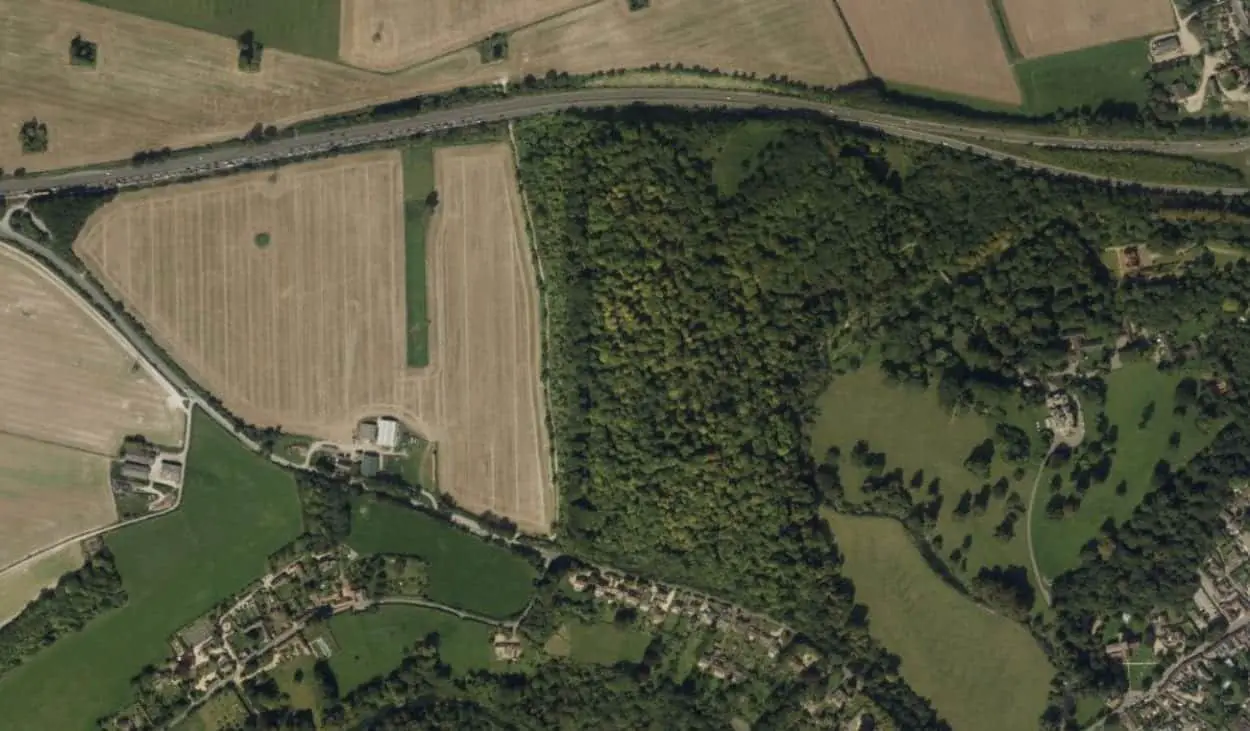 ---
Robin Hood's Ball
Robin Hood's Ball is a causewayed enclosure located just outside the designated Stonehenge Landscape, that consisted of two circuits of ditches and banks that enclosed an area of 7.4 acres. It was probably constructed around 4000 BC and remained active until 3000 BC.

---
Lake Down Barrows
Lake Down Barrows is a barrow cemetery which includes five bowl barrows, four pond barrows, and a disc barrow forming a round barrow, together with a section of a linear boundary.